Family Spotlight
San Raymundo, Guatemala
Stephy Soto (summer intern) taking a selfie with Maria, her family, and the team of volunteers
"I've never slept on your idea of a bed, bathed in what you would call a shower, or owned a cell phone. Let me give you a better idea of perhaps what I have done. I, by the grace of God, have survived a life of 26 years. I've raised my four kids in the midst of a challenging life, a life that got exceedingly harder a year ago when my husband passed away from colon cancer. My house was about 6 feet tall with 3 walls and a roof, each made by a single sheet of tin. It totaled about 35 square feet. I earn about $14 a week making firework wicks. It's a very dangerous job as it consists of rolling up newspaper into the size of a cigarette butt and stuffing it with gunpowder."
--Maria Carmelina Boch Top
s
Maria's world was completely flipped upside down a few weeks ago. Pastor Heyson Bohr serves on the Casas por Cristo pastor's committee in San Raymundo, Guatemala. Each month he has the opportunity to submit an application for a home on behalf of a family in need. Last month, the night before the meeting, he didn't have anyone in mind that needed a home, so he got down on his knees and prayed, "God, please reveal to me the person you've chosen to receive the next house." His prayer was interrupted by a knock at his door. He got up to find a woman who had heard of Casas and wanted to get some help for her daughter-in-law, Maria. As is required, Pastor Heyson made plans to check out the conditions of Maria's home to make sure she really needed help. He ended up going in search of her property by himself, but had some trouble finding it. He felt God calling him down a certain dirt road and ended up in a town called Los Ajuixes. He kept stopping to ask the locals if anyone knew Maria. Eventually, he reached the end of the road at the bottom of a hill and found her and her four children living in a three sided shack.
The home Maria and her four children previously inhabited
Behind the scenes, God had prepared a mission team from Fayetteville, Georgia to fly down and build Maria a home. It was a difficult build due to some heavy rainfall. Nonetheless, after three days of labor, a house complete with electricity and a porch was built. Two beds, a water filter, and other commodities in making a home comfortable were given.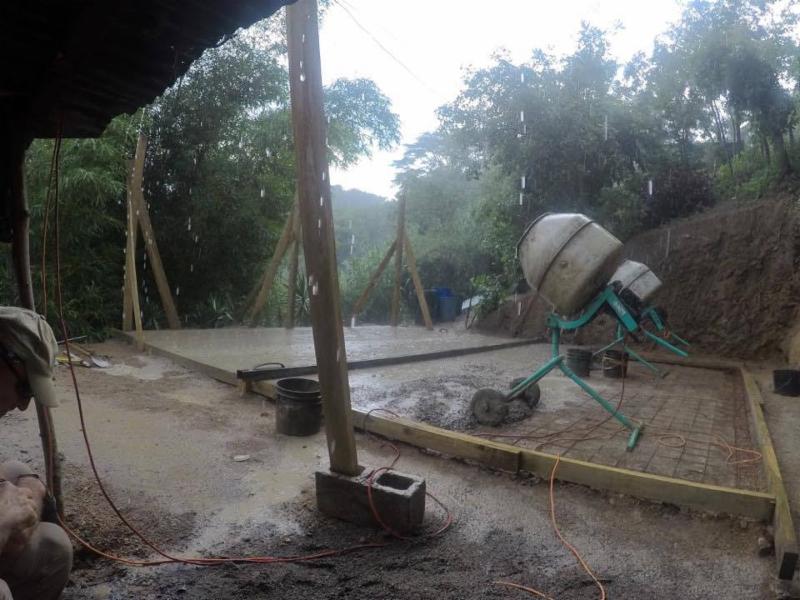 At the dedication, Pastor Heyson shared a story from Maria's oldest son, Jeremias (9 years old). He had a dream a few nights before of his daddy in heaven telling him that one day they would have a house. And there he stood, on the porch of his new three room home. How beautiful the thought that both fathers were watching down to provide for this family.
We do not know where Maria is in her walk with God. Pastor Heyson will follow up to make sure the Gospel continues to be conveyed. Please pray for Maria and her family as well as all the other families receiving homes this summer. Pray that they will understand just how grand God's provision is, but more importantly, how grand his invitation is to be his daughter or son.
--Story by Stephy Soto and Seth Wilson, Summer Interns
915.778.0046 |